Relieve your headache pain.
Chiropractic provides natural relief for many types of headaches, give our St. Petersburg, FL office a call today.
Dr. Kristin Kidgell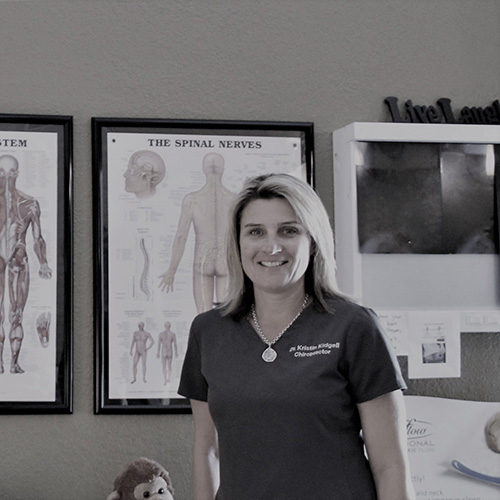 Dr. Kristin Kidgell provides chiropractic care to patients in St. Petersburg, FL. As a lifelong resident of St. Petersburg, Dr. Kidgell has helped hundreds of people through their recovery process. The key is to seek treatment early on, before you develop serious issues or chronic pain!
Dr. K specializes in total body chiropractic care along with nutrition and medicinal strength CBD oil. She has over 20 years of experience in family chiropractic, treating young children, athletes of all ages, and Olympians in training when living in Colorado.
Other qualifications include: whiplash, slips & falls, disc herniations, ART (active release technique), and kinesiotaping procedures. If you, or someone you care about, needs help and wants to get better naturally, just call! Dr. Kidgell is here to help and miracles happen every day!
Whether you're searching for effective pain relief or a way to live a healthier lifestyle, Dr. Kristin Kidgell can help.
Call our office at (727) 637-2957 or make an appointment online in the main menu today!
---
Helping people find an alternative:
• Pain
• Sleep
• Stress
• Anxiety
• Inflammation
• Seizures
• Tremors
• Aging
• and more.......
No Dispensary Needed! Legal in all 50 States! Full Spectrum! No Detectable THC! Whole Plant Extraction!
Organically grown and distributed in the USA at an FDA approved manufacturing facility.